Have You Seen These Ingenious Wooden Watches?
Wooden watches have the durability of metal watches. Wooden watches made of precious woods such as sandalwood and rosewood will not lose their color like metal watches over time. Wooden wristwatches will be smoother and brighter when exposed to human body temperature, sweat, and friction.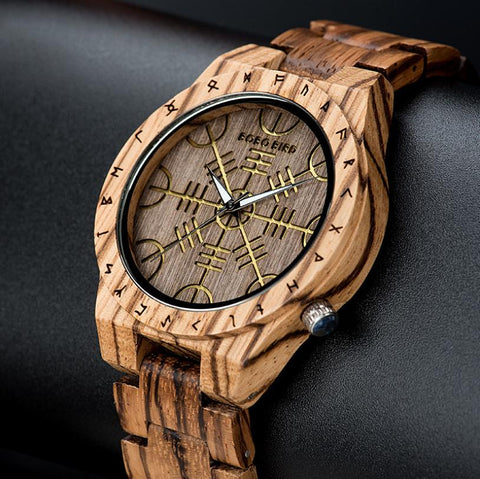 In addition, watches made of sandalwood have a certain health effect on the human body. Now wooden watches have been sold well in Japan, South Korea, Canada, Hong Kong and other places. The fashionable product "wooden watch" integrating timing and accessories will become the new darling of the watch industry.

Have you seen these classic wooden watches below?

1. Ingenious wooden watches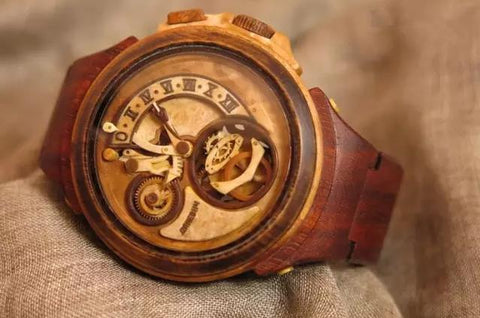 This watch may be a real masterpiece, because the Ukrainian carpenter Valerii Danevych hand-carved wood of different textures, only the clockwork is metal! And you can walk around normally!

Except for the necessary spring-driven metal, other parts of the watch are made of hard wood in nature, and even the gears of the internal movement are made of wood, and can provide a 20-hour capacity reserve.

This pure wooden watch Danevych took several months to complete. Of course, its price is quite expensive, with a price tag of up to 130,000 US dollars.

2. Wooden watches that can play games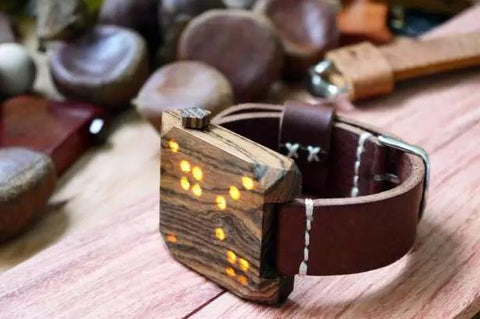 Panzer is made of 100% pure natural tropical hardwood, which is full of natural flavor, and since the choice of wood, it means that each Panzer is unique.

Panzer's built-in 7×7 matrix LED display can not only display the time, but even play casual games if you want. Unlike most ordinary wooden watches, Panzer is not only exquisite in materials and handcrafted, but also very unique in the way the time is displayed.

Panzer can display various information by dynamically flashing, including time, adjusting time, and checking remaining power. At the same time, the high-brightness LED lights can pass through the wooden panel, and the content on the screen can be clearly seen no matter it is during the day or night.

Although Panzer is not a real smart watch, students who like DIY can input customized changes for Panzer through USB-MCX to make it smarter.

As a pure wooden watch designed for geeks, Panzer displays the time in a very special way. The left and right sides are used to display the hours and minutes respectively. Inspired by the dice, the current is displayed by the product of the two parts on the half side. digital. For example, 3×3 is 9 points, and you can use addition to make it up.

3. All-wood elegant watches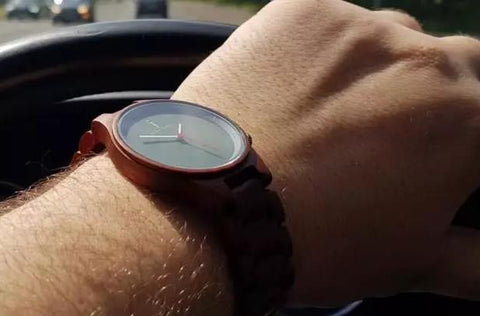 As an emerging designer brand, James Walker does not have a long history, nor is it a smart watch with smart notification functions. So what are its selling points? It's simple and wooden.

Regardless of the strap or case, almost all James Walker watches are made of natural wood. Each piece has a slightly different texture, and it is all handmade, which is very unique. In the face, the surface is hardened mineral glass, which has the characteristics of scratch and abrasion resistance.

James Walker has only one dial size, 45 mm wide and 10 mm thick, and two seconds hand styles in red and green; the strap size is 24 mm, length 210 mm, and has a six-section adjustable design, which is also very mainstream.

Due to the wooden case, it will swell when soaked in water for a long time, so it is not suitable for use in water, even if its watch core can support 30 meters of water resistance. Speaking of the movement, James Walker uses Miyota Quartz 3, which is not high-end but has good durability.

Elegance and literary style are the main selling points of James Walker watches. Although the functions are simpler, it is still very suitable for some friends who want a unique design of watches.
---